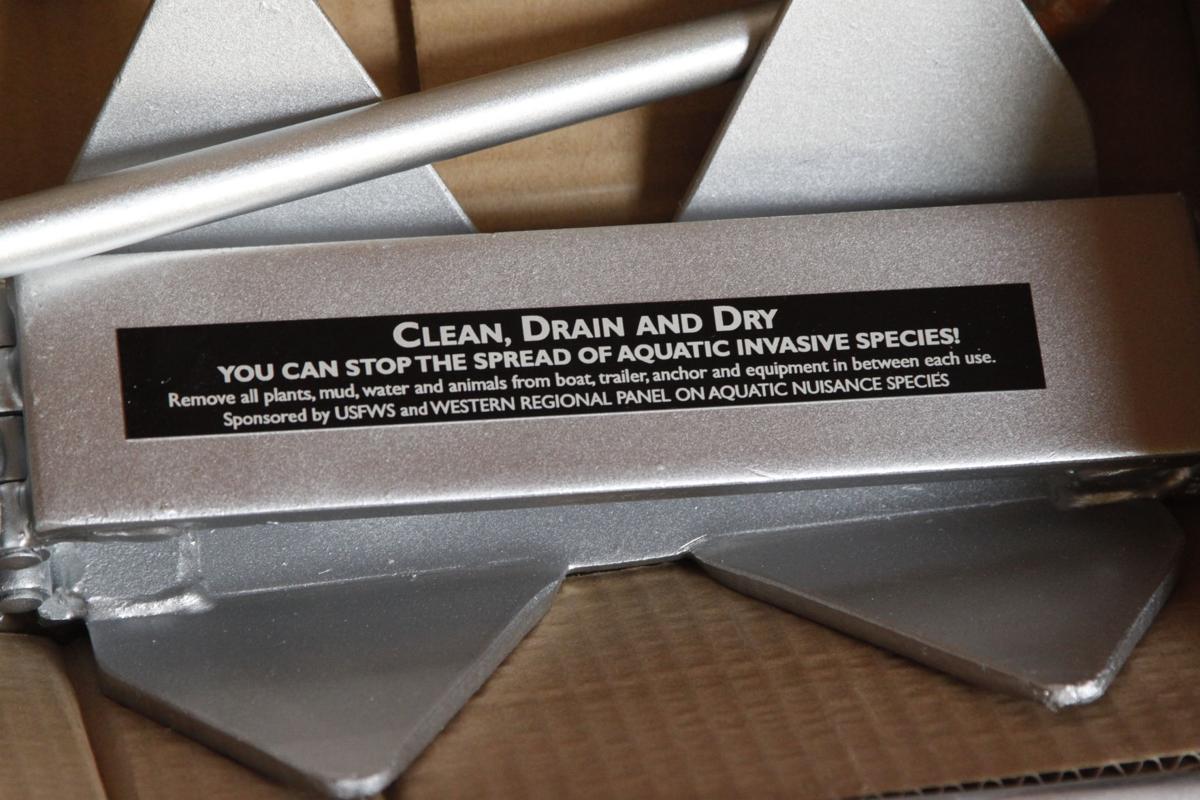 Havasu-based Slide Anchor last week received a shipment of 1,200 anchors from China, the first of the company's products to bear warnings for boaters against the potential for spreading aquatic invasive species to other bodies of water.
The Lake Havasu City business joined the Lake Havasu Marine Association alongside multiple state and federal agencies earlier this year in being the first anchor manufacturer in the U.S. to include an aluminum mussel-advisory sticker on each of its patented anchors. According to Slide Anchor owner Ryan Dvorak, other manufacturers may follow suit as the threat of aquatic invasive species continues to grow in U.S. waterways.
The stickers were purchased and attached to each anchor, each a reminder for boaters to clean, drain and dry their respective watercraft after leaving waterways such as Lake Havasu. Doing so will prevent Havasu's quagga mussels or other invasive species from being transmitted to other bodies of water, state agencies say.
The stickers were purchased through a $12,000 federal grant, with a combination of efforts from as many as eight state and federal agencies. Next May, according to Lake Havasu Marine Association President Jim Salscheider, the Marine Association will apply for another grant to continue its efforts to promote mussel-awareness on Slide Anchor's products.
According to Salscheider, about 40 percent of boaters who travel to California inadvertently transport invasive mussels on their anchors, even after cleaning. Quagga mussels, arguably Lake Havasu's worst offenders, breed prodigiously, are difficult to remove, and can cause extensive damage to manmade water systems as well as to aquatic ecosystems in which they thrive. Salscheider expects the stickers to be a helpful reminder for boaters where they may need it most.
"You can't use one of these anchors without seeing this sticker," Salscheider said. "It's a reminder for boaters, every time they're are out on the water."
According to Dvorak, production of his company's anchors, with stickers attached, is ahead of schedule. Each sticker is made from a specially-treated aluminum alloy, fixed to the anchors with a strong, water-proof adhesive, with wording approved by multiple state agencies.
"I think it's a great first step," Dvorak said. "I'm anticipating with the success of this program, other manufacturers will follow suit."
 By BRANDON MESSICK Today's News-Herald